This is one of our newest furriest members. Her name is Bonnie.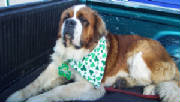 This year we also have Bernie. He and Bonnie are St Bernards and support the Irish. You can tell by their scarfs. They are a big hit with everyone.



Our group picture in front of one of our floats. It was a beautiful day for a parade.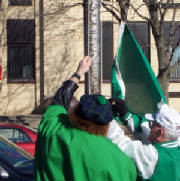 Every year after on St. Patrick's Day we raise the Irish flag in front of the court house. Here is our president Jason raising the flag.