The 25 years celebration is over, but that doesn't mean the end of a good time! With the possibilities of new members, and getting more involved with the Communities we are growing with each activity. After attending one of the State Advisory meetings Jason Donahoe(President) and Tiffany Donahoe (Vice President) were given an idea of selling beads for St. Patrick's Day to raise more money. So after a gathering of those wanting to celebrate St. Pat's eve with us we were off. Once again we had a great responce and not only did we have a great fund raiser, but a great way to meet new people and invite new members to join us. Remember you don't have to be Irish to join, and this will be added to next years activities again.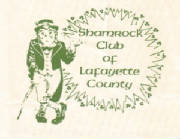 Upcoming Events
NEXT MEETING See Calendar of events and the parade schedule for more information.
Canoe Fest results:
The winners this year for the Red hair Contest were:
#1 Wyatt Sperry #2 Sophie Wiegle #3 Danny Haesler #4 was a tie Payton and Keygan Paisley and #5 Sydney Weigle
Freckle contest winners were:
#1 Michaela Thomas #2 Spence Seffrood
Red Hair and Freckle Contest Winners:
#1 Olivia Whalen #2 Mcenzie Wiegle #3 Spence Seffrood
Thank you to Annies of Darlington WI for sponsoring us Canoe Fest 2009!
Click here to see whats happening,check the calendar of events and join us!!!